HPRU-EZI Early Career Researchers contribute to Infected Blood Inquiry
Mon, 12 December 2022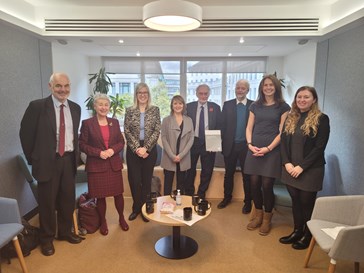 Over summer, Dr. Sarah Hayes and Ruth McCabe worked with the Statistics Expert Group (including Professor Christl Donnelly and HPRU EZI external advisory panel member Professor Graham Medley) to produce the Statistics Expert Report for the Infected Blood Inquiry. The group were asked to estimate the number of people infected with, and those who subsequently died from, viruses transmitted via contaminated blood and contaminated blood products, including HIV, Hepatitis B and C, and variant CJD across the 1970s – 1990s. Although the numbers in the report cannot convey the suffering endured by individuals and their loved ones, it is only by translating experiences into raw numbers that the magnitude of what has happened can be assessed.
 
The report was released in September and was covered by BBC news. Last month, members of the Statistics Expert Group (Professor Stephen Evans, Professor Sir David Spiegelhalter and Professor Sheila Bird) presented the work to the Inquiry and were cross-examined by Inquiry lawyers (for over 5 hours!). The Head of the Inquiry, Sir Brian Langstaff, will consider the evidence presented by this group in his final Inquiry report.
 
Although the Statistics Expert Group was convened in September 2019, all members were working extremely hard on COVID-19 from early 2020. Working at pace, the group developed a bespoke model for HCV. Sarah and Ruth were grateful for the opportunity to assist the Statistics Expert Group, but wish it were in less difficult circumstances than those covered by the Infected Blood Inquiry.
 
You can watch Ruth give a 2-minute summary of the work as part of Imperial's Science in Context series here.