Public Involvement Panel - Training Day
Fri, 28 September 2018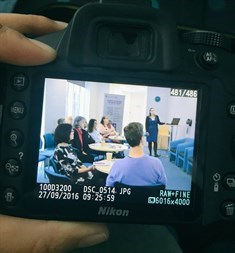 On 27 September 2018 the NIHR HPRU in Emerging and Zoonotic Infections and the Institute of Infection and Global Health, at The University of Liverpool, ran a training day for the public involvement panel and also for researchers and Phd students.
The morning sessions were on Academia for the Public. Members of the panel listened to talks by academics discussing research and how to initiate and conduct studies in plain English. Areas discussed were research study design, data analysis and clinical research in the NHS from the perspective of the North West Coast Clinical Research network. There were also talks on publications and how they fit into the Research Excellence Framework (REF). Finally there was a talk on dissemination of research from a public advisor perspective.
The afternoon sessions were focused on patient and public involvement for academics. Members of the panel gave their personal experiences of public involvement. Chris Salter gave her experience of being part of a steering committee. Bridget Harris gave her experience of being a member of the public involvement panel and the importance of being involved in research.
Mark Ellul, a HRPU member, spoke about how as a researcher, it was invaluable to receive feedback on his research from the panel, in order to get his research funded by NIHR.
Ben Wills-Eve addressed the issues around submitting grant applications to NIHR and what the NIHR looks for in terms of PPI. He gave the researchers some top tips as well as advice on what not to include in your application.