The COVID Hot Potato: As COVID-19 comes under control we need to share how local NHS services have adapted to cope with demand to "build back better" services for wave 2.
Mon, 04 May 2020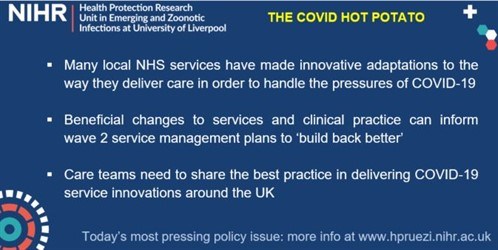 OVERVIEW: Health professionals warn that whilst there may be capacity in hospitals now, the potential for future waves and a severe COVID-19 winter peak means that hospitals must anticipate and plan for that surge demand now.  NHS services have adapted to respond to demands of the COVID-19 pressures and lessons learned should inform wave 2 management plans.
THE CHANGING DEMAND IN HOSPITALS: On 29 April, NHS England sent guidance to Trust Executives on moving to the second phase of the COVID-19 response and resuming non-coronavirus services. This guidance states that the NHS must retain the demonstrated ability to quickly repurpose 'surge' capacity locally and regionally,[i] Despite overall decline in COVID-19 patient numbers in the last week[ii], a Clinical Director in a Liverpool hospital reports that there has been a small increase in COVID-19 patient admission in local hospitals since discussions of lifting lockdown measures. Lifting lockdown may increase COVID-19 transmission rates (e.g. as in Germany[iii]): .
THE GROWING HEALTHCARE DEMAND IN COMMUNITY: GPs have reported concerns for a number of weeks that patients may not be seeking care for other health conditions. Clinical Directors report that i non-COVID-19 illness and death are likely to be greater than those related to COVID-19. They point to an increase in patients presenting with mental health concerns that require medical attention, to an urgent need to restore primary and community health services (e.g. GP clinics) wherever possible, and in some instances, to early signs that patients are starting to re-engage with primary care for non_COVID-19 related medical needs.
ADAPTING SERVICES TO MEET CHANGING DEMAND: A Clinical Director in Knowsley reports on local planning to secure out-of-hospital care for non-coronavirus patients. In particular, they are focussing on enabling mobile community rapid-response respiratory and palliative care teams. NHS England guidance is that judgements on capacity for routine non-urgent care should be made at the local and regional level, indicating that services will resume at different rates across the country, based on both COVID-19 burden and capacity.
LESSONS FOR PHASE TWO OF THE NHS RESPONSE: An Emergency Department in Chesterfield is documenting practices, which have been implemented to manage COVID-19 patients. They want to take forward valuable innovations as they move into phase two of the COVID-19 response and restart routine care. Similarly, Clinical Directors in Liverpool and Knowsley, amongst other healthcare professionals, highlight that returning to 'normal' is unlikely, and therefore changes made to hospital and community services that have improved patient care during this period must be identified and preserved. NHS England also emphasises the need to retain adaptations that have worked well during the first phase of the response. The extent to which this is possible will depend on resource required to sustain these changes.
CONCLUSION: The next challenge in the COVID-19 response is to readjust services appropriately to manage the changing demand in hospitals and the community, for both COVID-19 and non-coronavirus patients. Currently, NHS England guidance largely leaves this planning to regional administration and individual Trusts, given local variation, yet insights must also be shared in order to ensure equitable care. Health care teams around the UK need to find agile ways of sharing learning about best practice of this kind.
NOTE: The NIHR Health Protection Research Unit in Emerging and Zoonotic Infections brings together internationally leading researchers from the University of Liverpool, University of Oxford, Liverpool School of Tropical Medicine, and Public Health England. 
We are conducting an MRC-Funded project to understand the dynamics of policy development and healthcare professionals' behaviour in the UK during the COVID-19 pandemic. We have a targeted panel of healthcare professionals, with whom we regularly speak, to capture their experiences and reactions over the course of the outbreak. They include clinical leads, junior doctors, and nurses in HCID units, Emergency departments, intensive therapy units, medical wards, neonatal units and GP surgeries.
We have previously identified emerging issues around PPE challenges, the need for testing of healthcare professionals, and the need for mental health support for staff on the frontline, all of which were fed back to Government Advisory Panels, and proved to be important in decision-making.
---
[ii] Over the last week the number of people with COVID-19 in UK hospitals has fallen from 18,388 to 15,356, a decrease of 16%, as reported in the daily Government press briefing on 29 April (https://assets.publishing.service.gov.uk/government/uploads/system/uploads/attachment_data/file/882243/2020-04-29_COVID-19_Press_Conference_Slides.pdf)
[iii] 29 April press briefing discusses how, following the lifting of lockdown measures in Germany, there has been an increase in novel COVID-19 cases: https://www.gov.uk/government/speeches/foreign-secretarys-statement-on-coronavirus-covid-19-29-april-2020