The COVID Hot Potato 3
Thu, 07 May 2020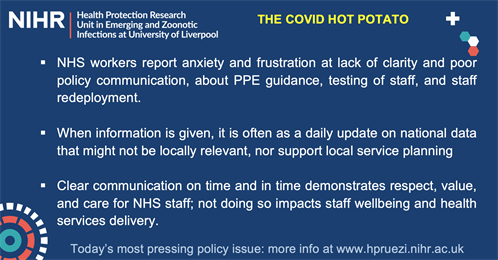 This week: Staff report anxiety and frustration that communication channels are often not effective. GPs, hospital doctors, and nurses have experienced this in different ways.
Reflecting on changes to PPE guidance, one A&E doctor said communication of uncertainty has been particularly poor from the government, who could acknowledge "it's not ideal, this is what we're going to do now, but as soon as we have got this, we will do the next thing."
Staff testing was another issue: "It feels like every week we've had a different system for testing staff and we still get huge delays in getting results, and we do wonder why… staff are incredibly frustrated…We've had lots of anxiety, lots of guilt."
When information on the COVID-19 situation is communicated, it is often not locally relevant. One GP described receiving multiple emails from different bodies, often saying the same thing: "a lot of it is just the same stuff re-cooked. There isn't really any new guidance in it….A lot of it is reactive ….to the death figures to the day before  …Maybe if they had a start of the week email and said 'this is what happened at the weekend, this is what we think might happen this week' and maybe an end of the week email saying 'this is what's happened at the end of this week, this is where the trend is, this is where the situation is going in the next 2 weeks."
Staff who had been redeployed had specific problems: "[After the training] no emails. They haven't sent me my rota. I've just been sitting at home waiting, which is really, really frustrating… I'm worried that I'm sitting at home doing nothing and my colleagues in my usual job are getting busy… I'm also worried that if I don't work this week my salary is going to be affected."
An obstetrics and gynaecology trainee doctor commented on the lack of two-way communication: "There are daily meetings on the COVID rota every day at lunchtime and I think some stuff gets heard, but I think people are feeling like they're saying the same things again and again and not getting much back."
NOTE: The NIHR Health Protection Research Unit in Emerging and Zoonotic Infections brings together internationally leading researchers from the University of Liverpool, University of Oxford, Liverpool School of Tropical Medicine, and Public Health England. 
We are conducting an MRC-Funded project to understand the dynamics of policy development and healthcare professionals' behaviour in the UK during the COVID-19 pandemic. We have a targeted panel of healthcare professionals, with whom we regularly speak, to capture their experiences and reactions over the course of the outbreak. They include clinical leads, junior doctors, and nurses in HCID units, Emergency departments, intensive therapy units, medical wards, neonatal units and GP surgeries.
We have previously identified emerging issues around PPE challenges, the need for testing of healthcare professionals, and the need for mental health support for staff on the frontline, all of which were fed back to Government Advisory Panels, and proved to be important in decision-making.