The COVID Hot Potato 6
Fri, 29 May 2020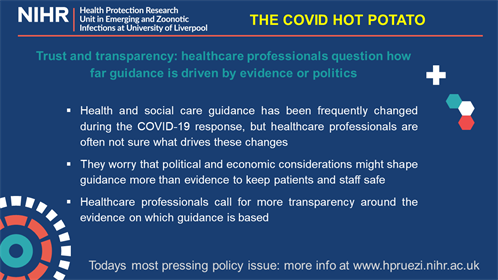 This week: Healthcare professionals question why the evidence that shapes clinical guidance is not routinely shared with them. They highlight the challenge of adapting to frequent changes, express worries regarding the lack of transparency about the drivers behind high-level decision-making, and want to be better informed.
A Speech Therapist in an East England hospital highlights how frequently clinical guidance has been changing throughout the COVID-19 response, reporting that "there was a day where a guideline changed twice in the same day." She says this has created worry in staff about the risks to healthcare professionals and patients, reporting that there is "worry as well that if something [in the guidance] suddenly takes a 180 degree turn, whether and what risk there has been to us and patients when we were doing it that way [before] and it's now changed."
A Clinical Director in a Liverpool hospital highlights possible political drivers for changing and often mixed messages, saying "there still seems to be this all-pervading lack of transparency going on." He illustrates these issues by giving an example of the abrupt reversal of guidance to unlock some healthcare services: "So a week ago it was: 'don't open any clinics, don't book any clinics.' And then yesterday, it was: 'you can open up your clinics.'"
Lack of transparency about what informs frequently changing guidance has negatively impacted the perceived trustworthiness of this guidance, and central decision-making in general: "If I'm honest, there is a little bit of mistrust…There is a sense of wondering how much of the guidance is influenced by things like the supply chain and political decisions that have to be made. Perhaps there is a little bit of cynicism."
A Clinical Lead in a Midlands hospital commented that clear communication of why changes to guidance have been made and what further changes might follow would reduce stress when implementing such changes. She calls for "clarity of communication, of 'this is not ideal, but it's what we are going to do now, and as soon as we have got this we will do 'X', we will do the next thing'."
A redeployed Pain Specialist Nurse in a London hospital emphasises the importance of linking guidance to evidence to improve healthcare professionals' trust that the guidance will keep them and their patients safe: "Being in a scientific profession I think we want whatever decision is taken to be backed up by evidence. You know: 'we're doing this because it's safest for the staff, it's safest for the patient, and here is the evidence.' Rather than: 'we are doing this,' without giving an explanation. Because you might think: 'we are doing this because it's economically more viable'." 
NOTE: The NIHR Health Protection Research Unit in Emerging and Zoonotic Infections brings together internationally leading researchers from the University of Liverpool, University of Oxford, Liverpool School of Tropical Medicine, and Public Health England. 
We are conducting an MRC-Funded project to understand the dynamics of policy development and healthcare professionals' behaviour in the UK during the COVID-19 pandemic. We have a targeted panel of healthcare professionals, with whom we regularly speak, to capture their experiences and reactions over the course of the outbreak. They include clinical leads, junior doctors, and nurses in HCID units, Emergency departments, intensive therapy units, medical wards, neonatal units and GP surgeries.
We have previously identified emerging issues around PPE challenges, the need for testing of healthcare professionals, and the need for mental health support for staff on the frontline, all of which were fed back to Government Advisory Panels, and proved to be important in decision-making.
If you'd like to contact the HPRU EZI, you can email hpruei@liverpool.ac.uk or call 0151 795 9626.