The COVID Hot Potato 7
Thu, 04 June 2020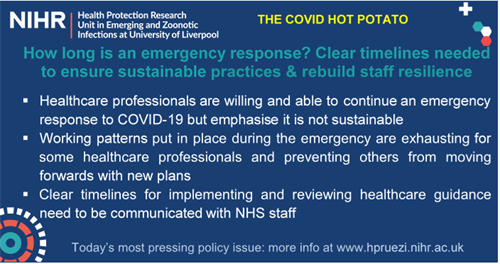 This week: Healthcare professionals in hospital and community settings are putting plans in place for how to take the next steps in the COVID-19 response, but a lack of communication about the length of time 'emergency' response measures will be in place contributes to exhaustion and difficulties implementing these plans.   
On 29th April, NHS England wrote to Trust Executives to step up non-COVID-19 urgent services and non-urgent services where possible over the following six weeks, while maintaining "surge capacity" for any future increases in the number of COVID-19 patients.[1] On the 11th May, the Government published their COVID-19 recovery plan, which laid out plans and estimated timelines for the easing of restrictions in terms of schools, work, travel, public spaces and social contact.[2] While this document includes a programme of work for the NHS, care capacity, and operating models, no timelines were given for the NHS programme.
The NHS letter acknowledges that significant pressure on many NHS staff will remain, but does not provide any indication of how long the current phase of the response will be in place, adding further pressure to the workforce and impacts levels of resilience. Whilst the number of COVID-19 patients in hospitals is decreasing, healthcare professionals report increasing levels of tiredness as the emergency response continues. As a redeployed ITU nurse in London says: "Lots of things are getting better but I'm finding myself in a more difficult place, where I just feel that tiredness, that uncertainty, that 'when am I going to get back to my normal job' – that kind of thing is really playing on my mind a lot more."  
She highlights that whilst an emergency response was necessary, it is not sustainable in the long-term: "I'm done, I've had enough, I'm feeling really flat, and really, really tired. I've been working full-time for 3 months when I normally only do 3 days a week, 4 days a week, short days." When considering what this means for continuing to care for patients and respond to COVID-19, she says: "What I don't want to do is arrive [back to my normal job] not being able to function as a nurse. I need to be able to work."
An Emergency Department Clinical Lead in the East Midlands emphasises that the lack of a clear timeline indicating how long emergency response measures are to stay in place further contributes to healthcare professionals' exhaustion and reduced resilience: "There are no timescales, and that's exhausting and demoralising from my perspective…We're just stuck in a bit of a no-man's land, really." The redeployed ITU nurse suggests that clear timelines would help with managing healthcare professionals' expectations and experiences: "I need to know whether I need to psych myself up to continue in ITU, I just feel really in limbo at the moment."
Clear timelines would also support how healthcare professionals plan and manage healthcare delivery, the Emergency Department Clinical Lead stating: "I know where I think we need to get to, but I haven't got a clear timescale, really, and I haven't really got any push making me do it – almost the reverse, people are saying 'don't change anything, just carry on as long as you need to.' But actually we do need to change….But it's not a straightforward 'flip it over' because that's not safe either."
Announcing changes to guidance and operations without sufficient lead-time for healthcare professionals has contributed to uncertainty, exhaustion, and planning difficulties. A GP and Clinical Director in Merseyside illustrates this: "We got the email from NHS England regarding antibody testing on Friday…and then I phoned the labs, our local labs, to find out, well, what's the plan here? And of course no one had told them about the antibody testing roll-out that was going to go on nationally, and they had had as much notice as we had in order to be ready for this…The problem about the half-baked implementation is that each time you botch it, you lose a little bit of energy from people."
In some cases, lack of clear timelines has contributed to barriers to implementing planning for sustainable solutions, the GP explaining: "Our staff, they're chomping at the bit. They're already coming up with different processes and remote management to say: 'Can we not open up? We've got things to do here…' So we can move very quickly to probably a better, more efficient, more patient-friendly service….but we're not supposed to call patients in because of disease transmission... It's time to just get on and do it now, I think."
_____________________________
NOTE: The NIHR Health Protection Research Unit in Emerging and Zoonotic Infections brings together internationally leading researchers from the University of Liverpool, University of Oxford, Liverpool School of Tropical Medicine, and Public Health England. 
We are conducting an MRC-Funded project to understand the dynamics of policy development and healthcare professionals' behaviour in the UK during the COVID-19 pandemic. We have a targeted panel of healthcare professionals, with whom we regularly speak, to capture their experiences and reactions over the course of the outbreak. They include clinical leads, junior doctors, and nurses in HCID units, Emergency departments, intensive therapy units, medical wards, neonatal units and GP surgeries.
We have previously identified emerging issues around PPE challenges, the need for testing of healthcare professionals, and the need for mental health support for staff on the frontline, all of which were fed back to Government Advisory Panels, and proved to be important in decision-making.
If you'd like to contact the HPRU EZI, you can email hpruei@liverpool.ac.uk or call 0151 795 9626.