Governance
The management structure is designed to support the HPRU Director in the delivery of world-class heath protection research across the four partner institutions. It will provide high level advice and guidance, as well as leadership, co-ordination, and operational oversight. The Director will have responsibility for finance.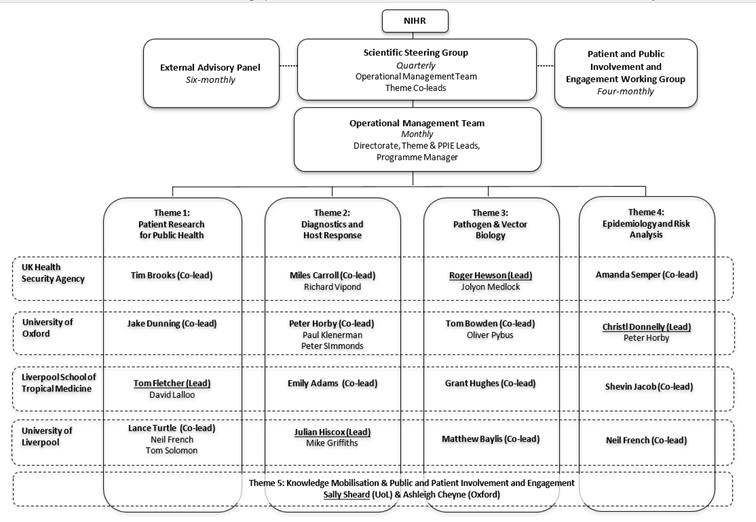 Internal Governance Structure of the NIHR-funded Health Protection Research Unit in Emerging and Zoonotic Infections
The governance structure of this HPRU is designed to support the HPRU Directorate in rapidly delivering a programme of world-class research in health protection against Emerging and Zoonotic Infections. There is equal representation of the four partner institutions (University of Liverpool, the UK Health Security Agency, University of Oxford and the Liverpool School of Tropical Medicine) at all levels, and strong input from both the External Advisory Panel and the Patient and Public Involvement and Engagement (PPIE) Working Group.
Operational Management Team
The OMT, consisting of the Directorate (4 co-Directors, one from each partner organisation), five Theme Leads, the HPRU Programme Manager, and the PPIE Lead, meets monthly and is the decision making body responsible for day-to-day management and direction of the Unit.
Scientific Steering Group
The Scientific Steering Group consisting of the OMT and all Theme Co-Leads, is responsible for the development, delivery and monitoring of the overall strategy, reporting and outputs. It meets quarterly to review research progress against key milestones for each research project, as well as our capacity-building programme. It is supported in these functions by our oversight committees: the External Advisory Panel and the PPIE Working Group.
The EAP meets twice yearly to provide independent rigorous advice, scientific review and guidance to the Scientific Steering Group. It will also meet virtually at short notice, as required, to advise on the HPRU's rapid response to emerging crises. The panel includes internationally recognised experts in areas of health protection research and will be reviewed and revised in light of emerging challenges. The panel has the ability to recommend remedial action or cessation of projects that fail to meet their targets.
Patient and Public Involvement and Engagement Working Group
The PPIE Working Group consists of eight members that include end-users of our research and experts in community engagement. The panel meets 3-4 times a year to provide input into research at an early stage, suggest areas of work for future research and work with researchers to advise on best practice in PPIE.
Annual Scientific Meetings
Due to the dispersed nature of the team, the above committees will meet annually (virtually or in-person) to update, monitor and review the progress and strategic direction of the HPRU's research programme.