Knowledge Mobilisation strategy and working group
A knowledge mobilisation strategy has been prepared to outline how we will engage researchers within the HPRU EZI in knowledge mobilisation, embedding it in all research themes. 
The aim of this strategy is to outline how the theory-informed approach to knowledge mobilisation agreed by all NIHR HPRUs will be used by the HPRU EZI to support researchers within the Unit to conduct knowledge mobilisation activities to maximise the impact of their work. This strategy addresses how to mobilise knowledge generated by the HPRU EZI, and to develop expertise and establish a culture in partner organisations to improve their capacity to draw on research evidence.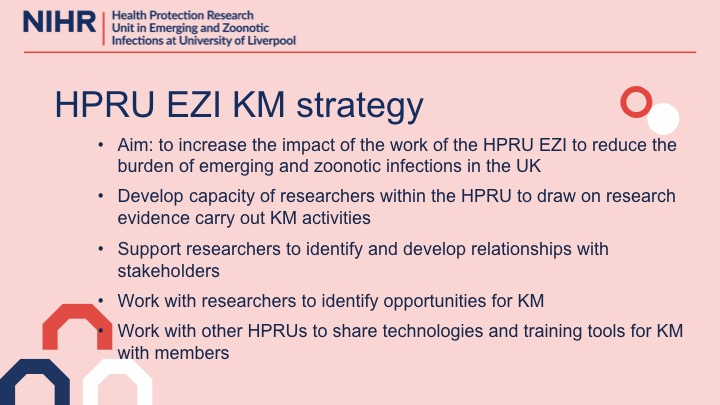 The final version of the strategy has been approved by the steering committee and submitted to NIHR.
The knowledge mobilisation working group is a collaborative group that supports the KM lead with the implemenation of the KM strategy made across the HPRU EZI. There is representation from each of the research themes, in addition to external user representatives who act to ensure the research objectives match user needs. The group has its own terms of reference which will be regularly reviewed. 
Download the terms of reference here.